SERP API
ProRankTracker, the SEO industry-leading rank tracker, offers two types of APIs to suit any business type and all use cases.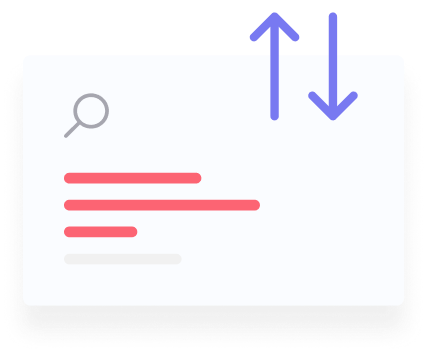 Pro Rank Tracker API
The PRT API is the ProRankTracker API designed to integrate with your PRT account, manage it and use its data in your systems and tools.
PRT API access is available on all agency plans or as an add-on to lower-tiered plans (view plans).
It allows you to manage (add new URLs/terms to the account, edit and organize) and get ranking data (current or historical) from your PRT account. It includes all of ProRankTracker subscription's features and benefits.
Insta-Check API
ProRankTracker's Insta-Check SERP API is ProRankTracker's instant-check solution for those requiring current fresh rankings/SERP raw data for their systems and tools.
The Insta-Check API is a credit-based, pay-as-you-go solution, regardless of your regular plan. It allows you to check single URL rankings or the top 10/30/100 for specified keywords.
It's as simple as Query → Get Ranks.
Unleashing the Power of SERP API
In the ever-evolving world of Search Engine Optimization (SEO), staying ahead of the competition requires leveraging powerful tools. One such tool that has gained tremendous popularity among SEO professionals is the SERP API (Search Engine Results Page API). In this article, we will explore the significance of it and how it can help enhance your SEO strategy.
Understanding SERP API
The SERP API is a vital tool that provides developers and SEO experts with direct access to search engine results pages (SERPs) data. It allows you to retrieve real-time information about keyword rankings, organic search results, local and mobile search results, featured snippets, and other relevant data. By utilizing such an API, SEO professionals gain valuable insights to analyze and optimize their websites accordingly.
Unveiling the Benefits of SERP API
•
Accurate Data:
The API delivers up-to-date information directly from search engines, ensuring you have the most accurate and reliable data for your SEO analysis.
•
Competitive Analysis:
With a SERP API, you can monitor your competitors' performance, analyze their strategies, and identify opportunities to outperform them. •
Keyword Research:
The API enables you to explore keyword trends, enabling you to make data-driven decisions for your content strategy.
•
Tracking SEO Performance:
By tracking keyword rankings and monitoring changes in SERPs, you can measure the effectiveness of your SEO efforts and make necessary adjustments.
Choosing the Right Provider
When selecting an API provider, consider factors such as reliability, data accuracy, ease of integration, available features, pricing, and customer support.
In the highly competitive landscape of SEO, harnessing the power of SERP API can significantly enhance your strategy. When it comes to choosing a reliable provider, ProRankTracker stands out as the industry leader. With our commitment to data accuracy, extensive features, seamless integration, competitive pricing, and exceptional customer support, ProRankTracker is the go-to choice for SERP data served by APIs.